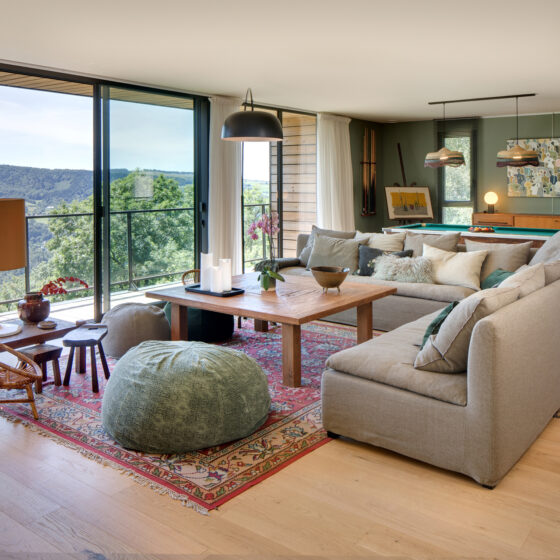 The property
A truly relaxing visit to the mountains
On the upper floor, you will find a light-filled open plan lounge with huge glass windows that lead your eyes to the surrounding magnificent panoramic views. As our guests, enjoy a holiday that's 100% relaxation at the heart of nature.
Every inch of the space has been carefully designed to remain comfy at all time that you need not worry about unpredictable weather conditions. Cozy up on the south-facing terrasse near the natural stone fireplace or inside, in the sumptuous living room sofa surrounded by lovely pieces of vintage furniture. Showcased by the huge bay windows, take-in the spectacular views of the valley, that at night, appear studded with the shining lights of La Bourboule.
The refined lines of this cube-shaped house, with its grass-covered roof, blend in perfectly in the immediate wilderness. Almost hidden in the mountains at an altitude of 900m, its designed architecture embraces natural materials such as light woods, stone and glass that counter-balance nature in perfect harmony. Back inside, pieces of furniture by renowned designers are mixed with carefully selected art and fabulous retro pieces.
L'Avancée offers 5 bedrooms and 3 bathrooms, each decorated with clean, elegant lines. In the largest bathroom, a sauna is awaiting you.
In line with our concept and soon to be launched are cooking workshops on the following themes: "cheese cuisine" or how to cook using cheese (so many different types of cheese are produced in the area), "trail cuisine" and hand-plucking techniques. Workshops only scheduled at mid-season.
Seek an escapade away from your busy life and experiment a 100% nature stay!