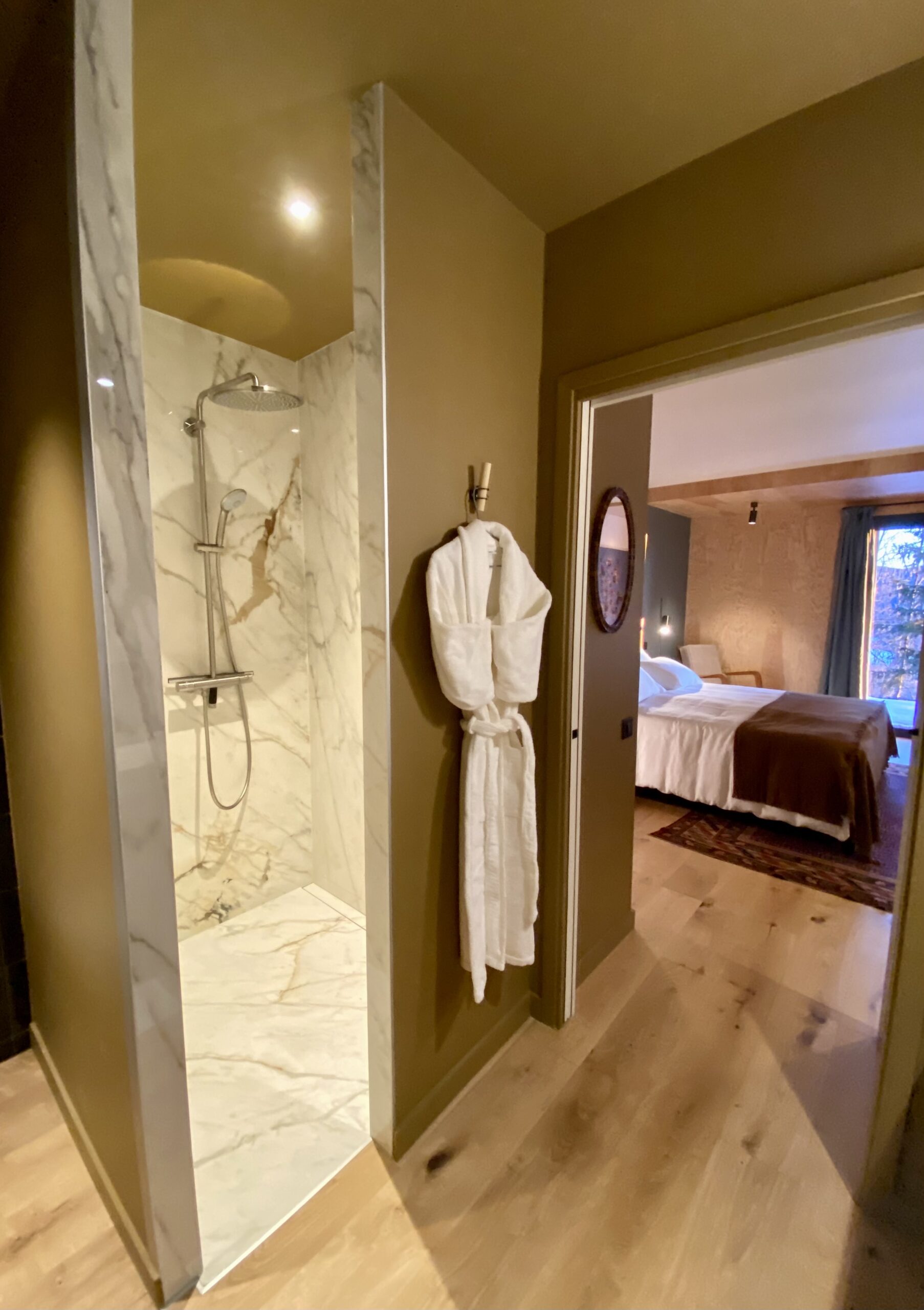 Equipments
& services
Indulge in every day luxury and make your stay in Auvergne a pure moment of bliss and a memorable holiday!
A welcome hamper with some lovely local treats (some really surprising) will be waiting for you on arrival!
As your host, I will show your around the house and explain how everything works. All you need to start you with will be available on your arrival.
There are 5 bedrooms, all with king-size luxurious beds (180X200cm). The beds of the 4 ground floor bedrooms come either as double-beds (180X200cm) or single ones (90X200cm). On the time of booking, please confirm your choice.
Bed linen made from pure linen (Brand: Maison de Vacances) is provided and the rooms are prepared for your arrival. Also provided are bathrobes and a set of towels.
In the kitchen, linen such as towels, table mats, pure linen table cloth (Brand: Maison de Vacances), and napkins are available
Both master-bedrooms have adjoining bathrooms with large walk-in showers, wash-in basins and a toilet.
On the ground floor, the spacious bathroom comes with a bath-tub, a huge walk-in shower and a traditional sauna. The massages are performed there. Massages need to be requested upon booking.
Shower-gel, shampoo and conditioner, body lotion (Products brand: Be Soap My Friend) are at disposal.
Upon request, the following items can be provided: travel-cot, high-chair, a small bath, a bouncer and a potty.
Special baby table-ware are available in the kitchen.
End of stay housecleaning is included to the fee.
For stays of 1 week or longer, a 2-hour long cleaning service will be performed in the middle of the vacation. A daily cleaning is optional and can be requested upon booking.
Our premium key-equipments

Indoor fireplace
User-friendly, gas-fired indoor fireplace, that will spare you all fire-related chores

Outdoor fireplace
An outdoor fireplace to be used as a brazier on the terrasse

Fully equipped kitchen
Large open-plan user-friendly kitchen, fully equipped as only a chef would like it to be!

Plancha
Our Plancha is available on the terrasse for nice and healthy meals with family or friends

Pool table
A René Pierre pool table that combines Snooker and Billiard

Cinema room
State-of-the-art projection room with access to 160 channels & Netflix provided through fiber-optic technology

Sauna
Sauna is located inside the vast ground floor shared-bathroom. The towels are provided.

Jacuzzi
Outdoor spa with stunning views over the valley.
More five-star services
Covered parking space is available for your vehicles, with an adjoining secure shed where you can keep your bicycles, motorcycles, mountain sports equipment etc.
Sockets are available for charging electric bicycles; one dedicated to charging electric vehicles.
In the vast and well-equipped laundry-room, there are an upscale washing-machine and dryer, as well as a boot-warmer that can fit up to 10 pairs.
« What else ? »